Chief Special Warfare Operator (SEAL) Adam Lee Brown
Posted by

OLI MARK

17/03/2021 16:06:33

0 Comments
Eleven years ago today, on March 17, 2010, Chief Special Warfare Operator (SEAL) Adam Lee Brown was killed in action against the Taliban.
U.S. Navy Chief Petty Officer Adam Brown served as part of an assault force that executed a daring raid deep into mountainous enemy occupied terrain in northeastern Afghanistan. Two barricaded enemy fighters opened fire from the target building into assault force, while numerous enemy fighters simultaneously engaged the force from the surrounding mountains.
Reacting immediately, and without regard for his own safety, Chief Adam Brown engaged two of the fighters from his position and boldly maneuvered toward the enemy under intense fire, thus providing life saving cover for his trapped teammates and noncombatants. Though mortally wounded, Chief Adam Brown continued to engage and communicate the location of the enemy fighters. His heroic actions under enemy fire changed the tide of the battle and inspired those around him to courageously eliminate the enemy fighters. This aggressive operation resulted in the elimination of the targeted Taliban commander and four enemy fighters following an intense two hour firefight.
For his outstanding bravery and fearlessness in action against the enemy, he was posthumously awarded the Silver Star medal.
Chief Special Warfare Operator (SEAL) Adam Lee Brown was a member of DEVGRU Gold Squadron which, less than a year and a half later, experienced the largest loss in U.S. Marine Special Forces history.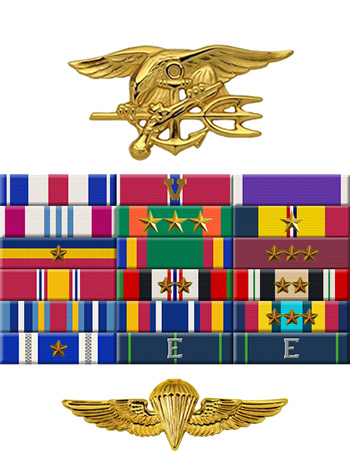 Adam Brown was born on February 5, 1974, in Hot Springs, Arkansas. He enlisted in the U.S. Navy on July 24, 1998, and went on active duty to begin basic training on August 10, 1998. Brown completed basic training at Great Lakes, Illinois, in October 1998, and then attended Interior Communications Electrician training at Great Lakes from October 1998 to April 1999. Petty Officer Brown next attended Basic Underwater Demolition/SEAL training at NAB Coronado, California, from May 1999 to February 2000, followed by service with SEAL Team FOUR at NAB Little Creek, Virginia, from April 2000 to August 2002.
Adam Brown served with SEAL Team TWO at NAB Little Creek from August 2002 to June 2006, and then with Naval Special Warfare Development Group (DEVGRU) at Dam Neck Annex, Virginia, from June 2006 until he was killed in action in Afghanistan on March 17, 2010.
Chief Petty Officer Adam Brown had deployed numerous times in support of Operation Enduring Freedom in Afghanistan, and Operation Iraqi Freedom. He was buried at the Cunningham Cemetery in Royal, Arkansas.
Adam L. Brown - Never Forgotten.
Comments
Log in or register to post comments